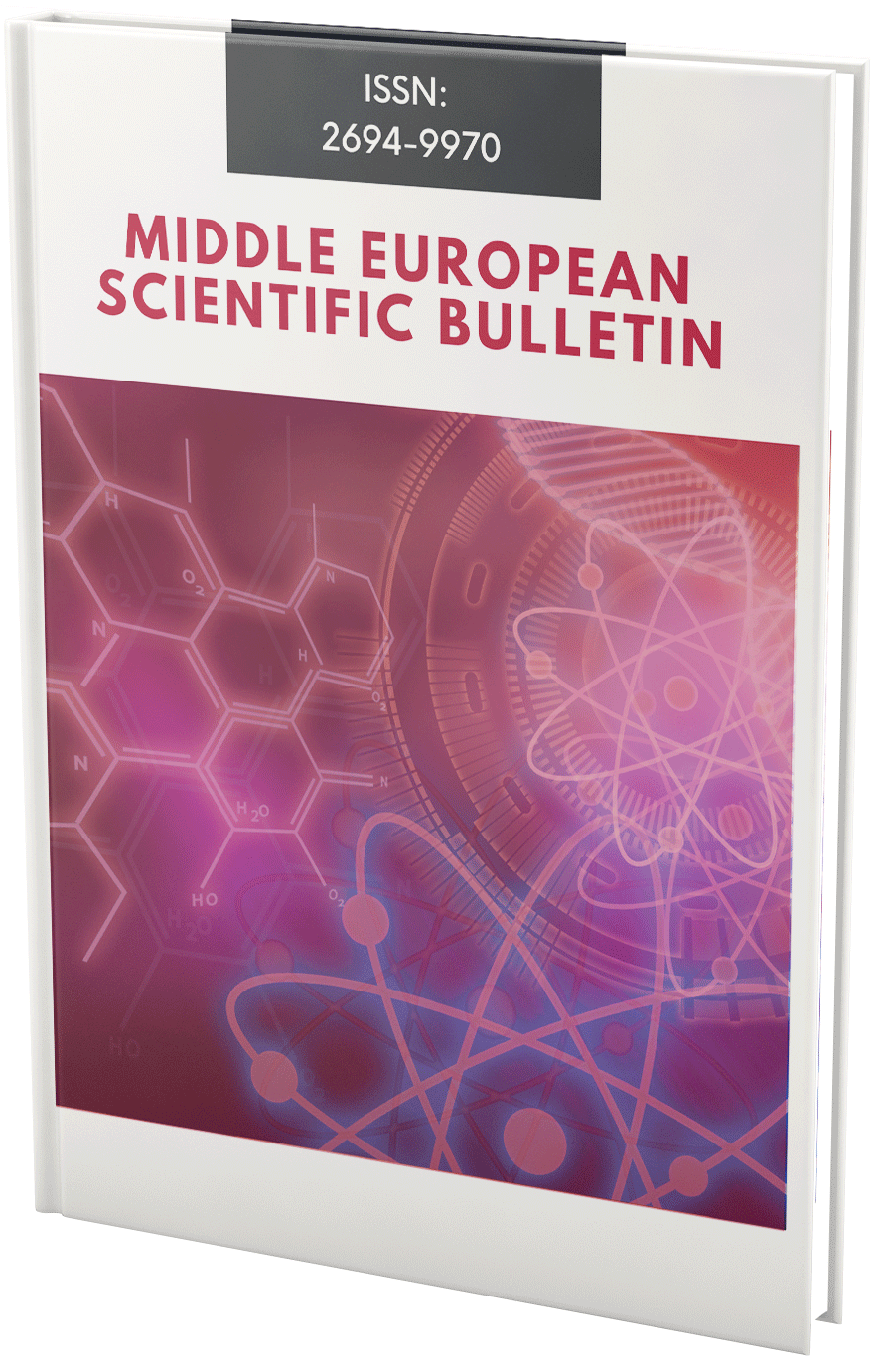 Pedagogical-Psychological ways of Formation of Description and Creativity in Pre-School Children
Declarations
Conflict of Interest Statement
The author (s) declare that the research was conducted in the absence of any commercial or financial relationships that could be construed as a potential conflict of interest.
Copyright and permissions
Copyright (c) 2021 Mamatov Dilshod
This work is licensed under a Creative Commons Attribution 4.0 International License.
Downloads
Download data is not yet available.
References
1. Ishmukhamedov R.J., Yuldashev M. Innovative pedagogical technologies in education and training. 2016
2. Аминов, Акмал Шавкатович, et al. "ПРОБЛЕМЫ ОРГАНИЗАЦИИ САМОСТОЯТЕЛЬНОЙ РАБОТЫ СТУДЕНТОВ В ВЫСШИХ УЧЕБНЫХ ЗАВЕДЕНИЯХ." European science 2 (58) (2021): 77-79.
3. Шукуров, Аваз Рузибаевич, et al. "МЕТОДИКА ИСПОЛЬЗОВАНИЯ КОМПЬЮТЕРНЫХ ПРОГРАММ НА УРОКАХ РИСОВАНИЯ В СРЕДНЕЙ ШКОЛЕ." European science 2 (58) (2021): 47-50.
4. Mamatov, Dilshod. "PROJECTS OF MAKING CLAY AND PLASTIC TOYS IN PRE-SCHOOL EDUCATION." Theoretical & Applied Science 9 (2019): 281-285.
5. MAMATOV, D. The Role of Computer Gaphics in Developing Students Space Imagination. JournalNX, 6(10), 304-309.
6. Djalolovich, Yadgarov Nodir, et al. "IMPROVING THE PROFESSIONAL TRAINING OF FINE ART TEACHERS." European science 2 (58) (2021): 44-46.
7. N. Dj. Yadgarov, Ph. D. , Associate Professor Bukhara - open-air museum // Oriental Art and Culture. 2019. №IV (1). URL: https://cyberleninka.ru/article/n/bukhara-open-air-museum ( 05.01.2021).
8. Yаdgarov N. D., YAdgarov D. D. Dizajn sozdaniya komp'yuternyh animacionnyh modelej po nachertatel'noj geometrii //Teorіya ta praktika dizajnu.– 2012. – №. 1. – P. 197-200.
9. Adilkhodzhaev A.I., Umarov K.S., Kadyrov I.A. (2020). Some features of the rheological properties of cement pastes with zeolite-containing fillers. International Engineering Research and Development Journal , 5 (CONGRESS), 4-4.
10. Botirov, Jahongir Sobirovich, et al. "The same goes for art classes in private schools specific properties." Journal of Contemporary Issues in Business and Government 27.2 (2021): 1643-1650.
11. Азимова, М. Б., Азимов, Б. Б., & Тухсанова, В. Р. (2021). ИСКУССТВО РОСПИСИ ТКАНЕЙ. European science, (2 (58)), 41-43.
12. Ширинов, А. Л., Батиров, Д. С., & Шомуродов, О. Н. (2021). ВАЖНОСТЬ ЦВЕТОВЕДЕНИЯ В ИЗОБРАЗИТЕЛЬНОМ ИСКУССТВЕ. Наука и образование сегодня, (5 (64)), 83-85.
13. Odilova, M. O. "Improving the pedagogical potential of biology teachers using computer programs." International Engineering Journal For Research & Development 5.9 (2020): 4-4.
14. Odilova, Mahfuza. "DROUGHT AND SALINITY RESISTANCE PROPERTIES OF SORGHUM BICOLOR." Збірник наукових праць ΛΌГOΣ (2021).
Bibliographic Information
Cite this article as:
Submitted

20 November 2021

Revised

20 November 2021

Published

20 November 2021