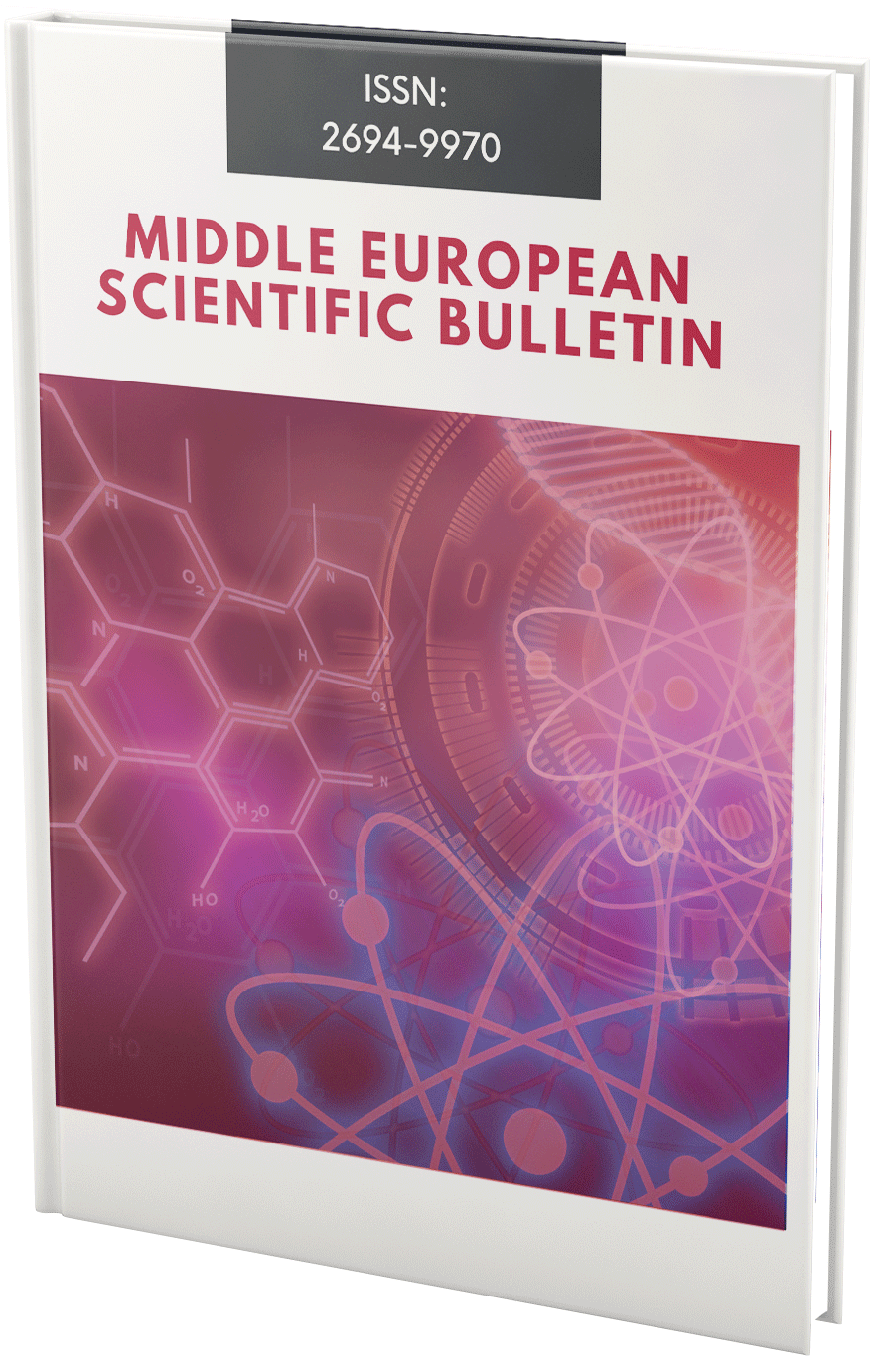 Improving the Efficiency of Flat Solar Collectors in Heat Supply Systems
Keywords
solar water heating device
Declarations
Conflict of Interest Statement
The author (s) declare that the research was conducted in the absence of any commercial or financial relationships that could be construed as a potential conflict of interest.
Copyright and permissions
Copyright (c) 2021 Yusuf Karimovich Rashidov , Ismailov Ma'murjon Muxtorovich
This work is licensed under a Creative Commons Attribution 4.0 International License.
Downloads
Download data is not yet available.
References
1. Weiss W., Spörk – Dür M. "Solar Heat Worldwide. Global Market Development and Trends in 2018. Detailed Market Figures 2017. 2019 edition".Available: www.iea-shc.org/data/sites/1/publications/Solar-Heat-Worldwide-2019.pdf.
2. Фрид С.Е. Современные солнечные коллекторы: типичные параметры и тенденции их изменения/ С.Е. Фрид, Н.В. Лисицкая// Гелиотехника. – 2018. – №2. – С.27-37.
3. Рашидов Ю.К. Системы солнечного теплоснабжения: мировой опыт и перспективы развития в условиях Узбекистана/ Ю.К.Рашидов// Международная научно-практическая конференция «Экологическая, промышленная и энергетическая безопасность – 2019», Севастополь 23-26 сентября 2019 года, С.1361-1365.
4. Даффи Дж. Основы солнечной теплоэнергетики. Пер. с англ.: Учебно-справочное руководство/ Дж. Даффи, У. Бекман. – Долгопрудный: Издательский дом «Интеллект», 2013. – 888 с.
5. Hollands K.G.T. A Review of Low-Flow. Stratified-Tank Solar Water Heating Systems/ K.G.T. Hollands, M.F. Lightstone // Solar Energy, 1989. – V. 43. – P. 97.
6. Carvalho M.J. An Experimental Comparison of Operating Strategies for Solar Water Systems/ M.J. Carvalho, M. Collares-Pereira, F.M. Cunha, C. Vitorino // Solar Energy, 1988. – V. 41. – P. 33.
7. Рашидов Ю.К. Оценка эффективности систем солнечного горячего водоснабжения с однократным нагревом воды в плоских солнечных коллекторах/ Ю.К. Рашидов// Международная научно-практическая конференция «Экологическая, промышленная и энергетическая безопасность–2018», Севастополь 24-27 сентября 2018 года, С.993-997.
8. Weitbrecht V., Lehmann D., Richter A. Flow Distribution in Solar Collectors with Laminar Flow Conditions/ V. Weitbrecht, D. Lehmann, A. Richter // Solar Energy. V. 73, 2002. – P.433.
9. Смирнов С.И., Константиновский Ю.А., Торшин А.,С. Влияние неравномерности распределения потока жидкости в системах солнечных коллекторов на выработку тепла// Гелиотехника. 1981. №1, с.24-28.
10. Dunkle R.V., Davey E.T. Flow Distribution in Absorber Banks// Paper presented at Melbourne International Solar Energy Society Conference, 1970.
11. Рашидов Ю.К. Повышение равномерности распределения потока жидкости по подъёмным трубам луче поглощающей теплообменной панели солнечного водонагревательного коллектора лист отрубного типа в условиях принудительной циркуляции/ Ю.К. Рашидов, А.У. Вохидов// Гелиотехника. – 2016. – №4. – С.8-14.
12. Рашидов Ю.К. Метод гидравлического расчёта теплообменной панели солнечного водонагревательного коллектора лист отрубного типа с заданной неравномерностью распределения потока жидкости в условиях принудительной циркуляции/ Ю.К. Рашидов, Ж.Т. Орзиматов, К.Ю. Рашидов, Ф. Файзиев// Международная научно-практическая конференция «Экологическая, промышленная и энергетическая безопасность – 2019», Севастополь 23-26 сентября 2019 года, С.1391-1395.
13. M.M.Madraximov, Z.E.Abdulxayev, E.M.Yunusaliev, A.A.Akramov. "Suyuqlik Va Gaz Mexanikasi Fanidan Masalalar To'plami" Oliy o'quv yurtlari talabalari uchun o'quv qo'llanma. -Farg'ona: 2020-yil, 232 bet.
14. Рашидов, Ю. К., Ж. Т. Орзиматов, and М. М. Исмоилов. "Воздушные солнечные коллекторы: перспективы применения в условиях Узбекистана." In Экологическая, промышленная и энергетическая безопасность-2019, pp. 1388-1390. 2019.
15. Мадрахимов, М. М., and З. Э. Абдулҳаев. "Насос агрегатини ишга туширишда босимли сув узатгичлардаги ўтиш жараёнларини ҳисоблаш усуллари." Фарғона Политехника Институти Илмий–Техника Журнали 23, no. 3 (2019): 56-60.
16. Абдукаримов, Бекзод Абобакирович, Ахрор Адхамжон Угли Акрамов, and Шахноза Бахтиёрбек Кизи Абдухалилова. "Исследование повышения коэффициента полезного действия солнечных воздухонагревателей." Достижения науки и образования 2 (43) (2019).
17. Рашидов, Ю. К., М. М. Исмоилов, Ж. Т. Орзиматов, К. Ю. Рашидов, and Ш. Ш. Каршиев. "Повышение эффективности плоских солнечных коллекторов в системах теплоснабжения путём оптимизации их режимных параметров." In Экологическая, промышленная и энергетическая безопасность-2019, pp. 1366-1371. 2019.
18. АБДУЛҲАЕВ, Зоҳиджон, and Мамадали МАДРАХИМОВ. "Гидротурбиналар ва Насосларда Кавитация Ҳодисаси, Оқибатлари ва Уларни Бартараф Этиш Усуллари." Ўзбекгидроэнергетика" илмий-техник журнали 4, no. 8 (2020): 19-20.
19. Rashidov, Yu K., J. T. Orzimatov, K. Yu Rashidov, and Z. X. Fayziev. "The Method of Hydraulic Calculation of a Heat Exchange Panel of a Solar Water-Heating Collector of a Tube–Tube Type with a Given Nonuniform Distribution of Fluid Flow Along Lifting Pipes." Applied Solar Energy 56 (2020): 30-34.
20. Abdukarimov, Bekzod, Shuhratjon O'tbosarov, and Axmadullo Abdurazakov. "Investigation of the use of new solar air heaters for drying agricultural products." In E3S Web of Conferences, vol. 264, p. 01031. EDP Sciences, 2021.
21. Маликов, Зафар Маматкулович, and Муродил Эркинжанович Мадалиев. "Численное исследование закрученного турбулентного течения в канале с внезапным расширением." Вестник Томского государственного университета. Математика и механика 72 (2021): 93-101.
22. Mirsaidov, M. M., A. A. Nosirov, and I. A. Nasirov. "Modeling of spatial natural oscillations of axisymmetric systems." In Journal of Physics: Conference Series, vol. 1921, no. 1, p. 012098. IOP Publishing, 2021.
23. Abobakirovich, Abdukarimov Bekzod, O'Gli Mo'Minov Oybek Alisher, and Shoyev Mardonjon Ahmadjon O'G'Li. "Calculation of the thermal performance of a flat solar air heater." Достижения науки и образования 12 (53) (2019).
24. Erkinjonovich, Abdulkhaev Zokhidjon, and Madraximov Mamadali Mamadaliyevich. "WATER CONSUMPTION CONTROL CALCULATION IN HYDRAULIC RAM DEVICE." In E-Conference Globe, pp. 119-122. 2021.
25. Abdukarimov, B. A., Sh R. O'tbosarov, and M. M. Tursunaliyev. "Increasing Performance Efficiency by Investigating the Surface of the Solar Air Heater Collector." NM Safarov and A. Alinazarov. Use of environmentally friendly energy sources (2014).
26. Usarov, M., G. Mamatisaev, J. Yarashov, and E. Toshmatov. "Non-stationary oscillations of a box-like structure of a building." In Journal of Physics: Conference Series, vol. 1425, no. 1, p. 012003. IOP Publishing, 2019.
27. Мадрахимов, М. М., З. Э. Абдулҳаев, and Н. Э. Ташпулатов. "Фарғона Шаҳар Ер Ости Сизот Сувлари Сатҳини Пасайтириш." Фарғона Политехника Институти Илмий–Техника Журнали 23, no. 1 (2019): 54-58.
28. Erkinjonovich, Abdulkhaev Zokhidjon, Madraximov Mamadali Mamadaliyevich, Shoev Mardonbek Axmadjon O'G'Li, and Toshpulatov Nosirbek Egamberdiyevich. "FARG'ONA SHAHAR YER OSTI SIZOT SUVLARINING KO'TARILISH MUAMMOSI VA YECHIMLARI." Oriental renaissance: Innovative, educational, natural and social sciences 1, no. 3 (2021): 138-144.
29. Абдукаримов, Б. А., О. А. Муминов, and Ш. Р. Утбосаров. "Оптимизация рабочих параметров плоского солнечного воздушного обогревателя." In Приоритетные направления инновационной деятельности в промышленности, pp. 8-11. 2020.
30. Abdulkhaev, Zokhidjon, Mamadali Madraximov, Axmadullo Abdurazaqov, and Mardon Shoyev. "Heat Calculations of Water Cooling Tower." Uzbekistan Journal of Engineering and Technology (2021).
31. Xamdamaliyevich, Sattorov Alimardon, and Salimjon Azamdjanovich Rahmankulov. "INVESTIGATION OF HEAT TRANSFER PROCESSES OF SOLAR WATER, AIR CONTACT COLLECTOR." In E-Conference Globe, pp. 161-165. 2021.
32. Сатторов, Алимардон Хамдамалиевич, Ахрор Адхамжон Угли Акрамов, and Ахмадулло Мухаммадович Абдуразаков. "Повышение эффективности калорифера, используемого в системе вентиляции." Достижения науки и образования 5 (59) (2020): 9-12.
Bibliographic Information
Cite this article as:
Submitted

13 November 2021

Revised

13 November 2021

Published

13 November 2021