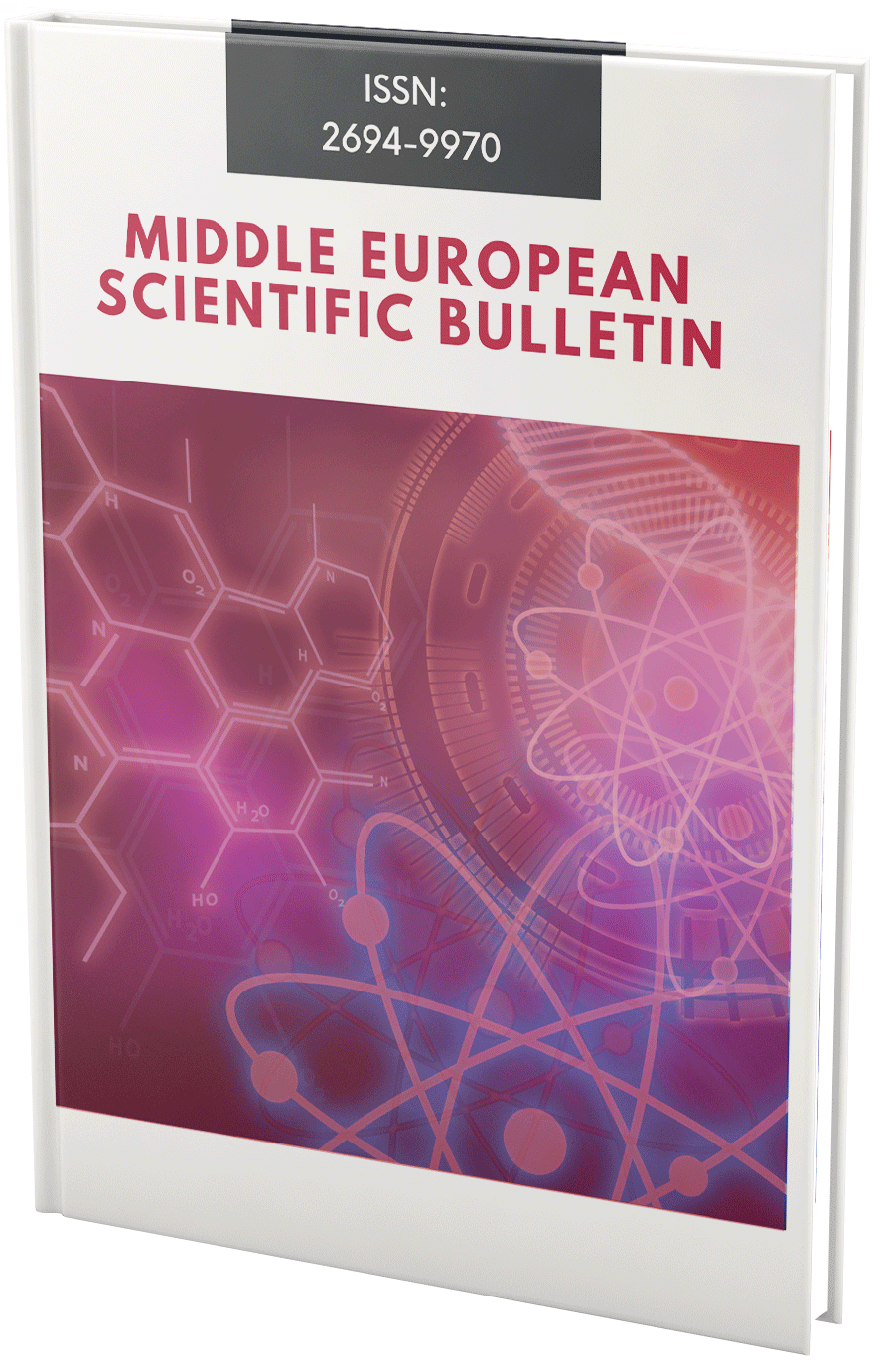 Demographic Characteristics of Population Growth in Uzbekistan
Declarations
Conflict of Interest Statement
The author (s) declare that the research was conducted in the absence of any commercial or financial relationships that could be construed as a potential conflict of interest.
Copyright and permissions
Copyright (c) 2021 Abdunazarov Husan Menglievich , Erdanov Mmadi Nuralievich , Niyazov Khojakul Mirzaboboevich , Turaev Quvochbek Tohirovich
This work is licensed under a Creative Commons Attribution 4.0 International License.
Downloads
Download data is not yet available.
References
1. Allanov Q.A., & Choriev A.Q. (2021). Effects on the Location and Development of the Production Forces of the South Surkhan Reservoir. Middle European Scientific Bulletin, 11. https://doi.org/10.47494/mesb.2021.11.495
2. Abdunazarov H.M., Niyozov H.M (2021). The use of "bbb" graphic organizer, "technology of working with red and green cards" in teaching the subject of geography of Uzbekistan "natural conditions and mineral resources of uzbekistan, their economic significance". Middle European Scientific Bulletin, 12, 534-538. Retrieved from https://cejsr.academicjournal.io/index.php/journal/article/view/598
3. Turaev Kuvonchbek Tohirovich, "RELIGIOUS TOURIST FACILITIES OF HISTORICAL AND GEOGRAPHICAL STRUCTURE IN UZBEKISTAN ", IEJRD - International Multidisciplinary Journal, vol. 5, no. 3, p. 5, Apr. 2020.
4. Turaev K.T and Turayeva Z.M 2020. The Issue of Studying Religious Tourism in Uzbekistan. International Journal on Integrated Education. 3, 8 (Aug. 2020), 43-47. DOI:https://doi.org/10.31149/ijie.v3i8.535.
5. Umarova M. H, Esanov N. A, Xolmatov Z. M, and Turaev Q. T, "THE CLASSIFICATION OF THE NAMES OF POPULATION SETTLEMENTS IN SURKHANDARYA REGION BY THE HISTORICAL FACTORS", IEJRD - International Multidisciplinary Journal, vol. 5, no. SPECIAL ISSUE, p. 4, Dec. 2020
6. Esanov N. A, "SOME ISSUES RELATED TO THE FORMATION OF URBAN SETTLEMENTS IN UZBEKISTAN BEFORE INDEPENDENCE", IEJRD - International Multidisciplinary Journal, vol. 5, no. 9, p. 6, Jan. 2021.
7. Erdonov M.N., Abdunazarov H.M., Choriev A.K. USE OF "BBB AND SWOT-ANALYSIS" METHODS IN TEACHING THE SUBJECT OF "GEOGRAPHICAL FEDERATION OF BRAZIL" IN WORLD GEOGRAPHY Vol. 8 No. 11, 2020 Part II ISSN 2056-5852
8. Umarova M. H, Abdunazarov H. M, Kholmatov Z. M, and Turaev Q.T, "THE RECREATION IMPORTANCE OF NATURE MONUMENTS OF THE BAYSUN MOUNTAINS", IEJRD - International Multidisciplinary Journal, vol. 5, no. 9, p. 4, Dec. 2020.
9. Umarova M. H, Esanov N. A, Xolmatov Z. M, and Turaev Q. T, "THE CLASSIFICATION OF THE NAMES OF POPULATION SETTLEMENTS IN SURKHANDARYA REGION BY THE HISTORICAL FACTORS", IEJRD - International Multidisciplinary Journal, vol. 5, no. SPECIAL ISSUE, p. 4, Dec. 2020
10. Turayeva Z.M. Interactive methods of learning foreign language Гуманитарный трактат Номер: 72 Год:2019. Страницы: 28-29.
11. Mamarasulovna, T. Z. . (2021). Some translation problems in visit tourism (on the example of Russian and English). Middle European Scientific Bulletin, 12, 509-512. Retrieved from https://cejsr.academicjournal.io/index.php/journal/article/view/593
12. Kholmatov Z.M, Abdumuminov O.R., Abdumuminov B.O., Bahramov I.B NATIONAL MODEL OF ECONOMY DEVELOPMENT IN UZBEKISTAN European Journal of Research and Reflection in Educational Sciences Vol. 7 No. 12, 2019 ISSN 2056-5852
13. Umarova, M. H., & Turaev, Q. (2021). Names of Places Related to Religious Tourism and their Origin. Middle European Scientific Bulletin, 12, 371-373. Retrieved from https://cejsr.academicjournal.io/index.php/journal/article/view/566
14. Umarova M.H, Erdanov M.N, Xolmatov Z.M, Turaev Q.T. American Journal of Social and Humanitarian Research, Vol. 2 No. 4 (2021): AJSHR Article Published : Jun 19, 2021. https://www.grnjournals.us/index.php/AJSHR/article/view/457/386
15. Umarova M. H. (2021). Ethnic Related Toponyms of The Population in Surkhandarya Region. Middle European Scientific Bulletin, 13. https://doi.org/10.47494/mesb.2021.13.612
16. Umarova M.H, Niyazov Kh.M, Xolmatov Z.M, Turaev Q.T. American Journal of Social and Humanitarian Research, Vol. 2 No. 4 (2021): AJSHR
Article Published : Jun 25, 2021
17. Umarova М. Н., To'rayev Q. T. Din-ziyorat turizmi bilan bog'liq bo'lgan joy nomlari va ularning kelib chiqishi // за публикацию в международном научно-практическом журнале «Экономика и социум» № 6(85) 2021
18. Nuralievich, E. M. ., & Mamayusupovich, O. A. . (2021). Territorial Differences and Opportunities in the Branches of Transport in Surkhandarya Region. Middle European Scientific Bulletin, 16. https://doi.org/10.47494/mesb.2021.16.738
Bibliographic Information
Cite this article as:
Menglievich, A. H. ., Nuralievich, E. M. ., Mirzaboboevich, N. K. ., & Tohirovich, T. Q. . (2021). Demographic Characteristics of Population Growth in Uzbekistan. Middle European Scientific Bulletin, 17, 41-45. https://doi.org/10.47494/mesb.2021.17.761
Submitted

9 October 2021

Revised

9 October 2021

Published

9 October 2021