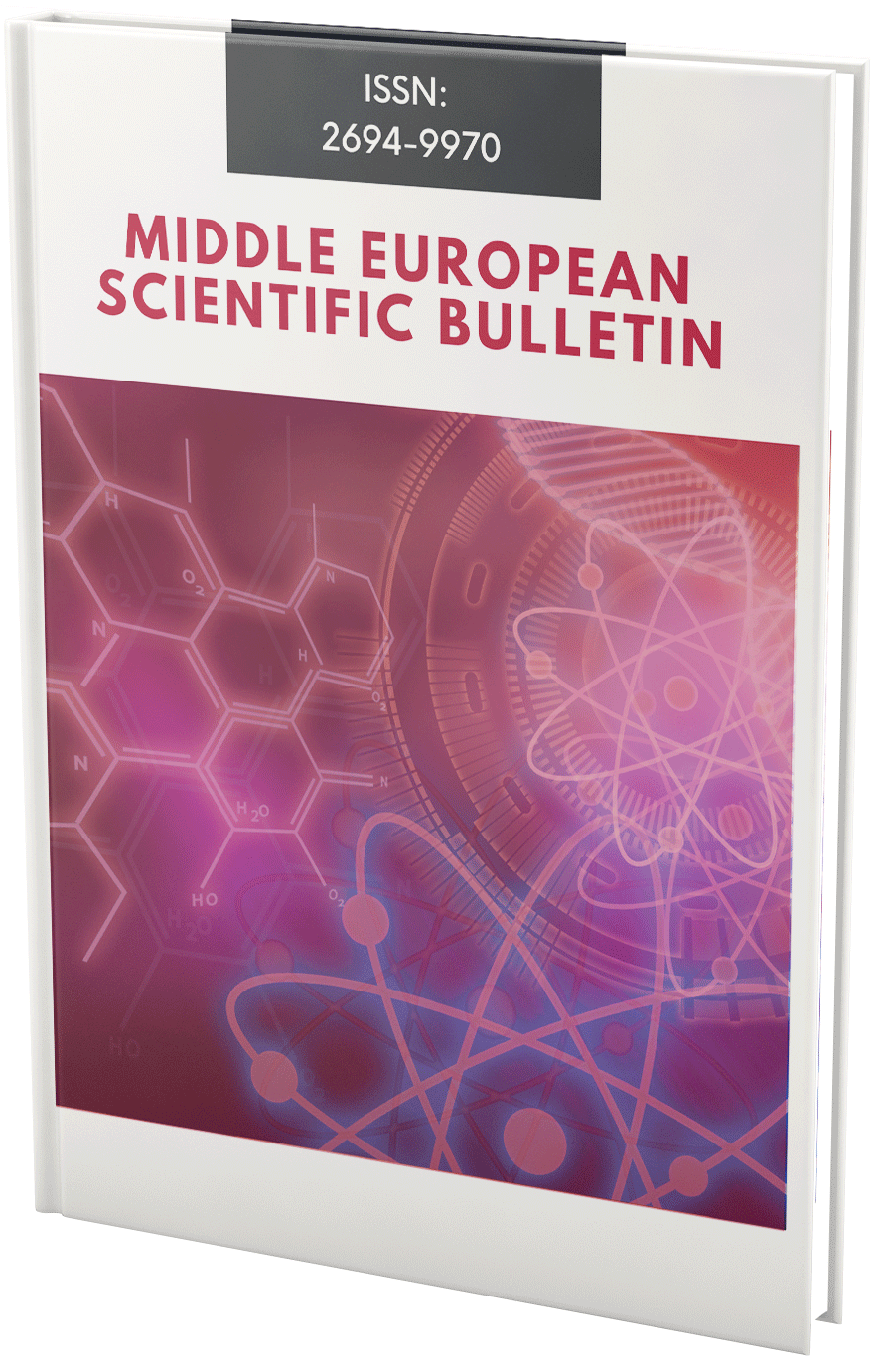 Optimization of the Ways of Cleansing Burn Wounds From Purulent-Necrotic Masses in Children
Declarations
Conflict of Interest Statement
The author (s) declare that the research was conducted in the absence of any commercial or financial relationships that could be construed as a potential conflict of interest.
Copyright and permissions
Copyright (c) 2022 Muradova Railya Rustamovna , Khaidarov Musomiddin Muhammadievich
This work is licensed under a Creative Commons Attribution 4.0 International License.
Downloads
Download data is not yet available.
References
1. Rustamovich, A. I. (2022). THE USE OF "SINUPRET" WITH ANTIBACTERIAL DRUGS IN THE COMPLEX THERAPY OF ACUTE AND CHRONIC RHINOSINUSITIS IN PATIENTS WITH CEREBRAL PALSY. Research Jet Journal of Analysis and Inventions, 3(05), 133-141.
2. Абдурахмонов, И. Р., & Тураев, Х. Н. (2022). ОПЫТ ПРИМЕНЕНИЯ СИНУПРЕТА С АНТИБАКТЕРИАЛЬНЫМИ ПРЕПАРАТАМИ В КОМПЛЕКСНОЙ ТЕРАПИИ РИНОСИНУСИТОВ У БОЛЬНЫХ ДЕТСКИМ ЦЕРЕБРАЛЬНЫМ ПАРАЛИЧОМ. Достижения науки и образования, 88.
3. Тураев Хикматилла Негматович, & Абдурахмонов Илхом Рустамович (2021). ВЛИЯНИЕ БУДЕСОНИДА НА КАЧЕСТВО ЖИЗНИ ПАЦИЕНТОВ С БРОНХИАЛЬНЫМ ОБСТРУКТИВНЫМ СИНДРОМОМ. Вопросы науки и образования, (7 (132)), 19-28.
4. Абдурахмонов, И. Р. (2021). Исследование мукоцилиарной транспортной функции слизистой оболочки полости носа у больных с параназальным синуситом на фоне детского церебрального паралича. In Актуальные аспекты медицинской деятельности (pp. 256-259).
5. Сиддиков О., Даминова Л., Абдурахмонов И., Нуралиева Р., Хайдаров М. ОПТИМИЗАЦИЯ ПРИМЕНЕНИЯ АНТИБАКТЕРИАЛЬНЫХ ПРЕПАРАТОВ ПРИ ОБОСТРЕНИИ ХРОНИЧЕСКОЙ ОБСТРУКТИВНОЙ БОЛЕЗНИ ЛЕГКИХ. Турецкий журнал физиотерапии и реабилитации , 32 , 2.
6. Сиддиков, О. А., & Нуралиева, Р. М. (2021). Рациональное использование и оптимальное дозирование антибактериальных препаратов при лечении внебольничной пневмонии. Вопросы науки и образования, (9 (134)), 33-42.
7. Нуралиева, Р. М., Тураев, Х. Н., & Сиддиков, О. А. (2020). Эффективность применения ланторола в трехкомпонентной антихеликобактерной терапии с использованием прополиса. Вопросы науки и образования, (37 (121)), 27-31.
8. Нуралиева, Р. М., Сиддиков, О. А., & Тураев, Х. Н. (2020). Оценка эффективности традиционной антихеликобактерной фармакотерапии при дополнительном использовании прополиса. Вестник науки и образования, (10-3 (88)), 85-89.
9. Хайитов, У., Ахмедов, Ю., & Бегнаева, М. (2021). Клинико-ренtгенологическая картина септической пневмонии у детей. Журнал гепато-гастроэнтерологических исследований, 2(3.2), 35-36.
10. Мурадова, Р. Р., Хайдаров, М. М., & Бегнаева, М. У. (2021). СОВРЕМЕННЫЕ КЛИНИКО-ФАРМАКОЛОГИЧЕСКИЕ АСПЕКТЫ ПРИМЕНЕНИЯ НЕФРОТОКСИЧНЫХ АНТИБИОТИКОВ. Достижения науки и образования, (3), 98-100.
11. Muxammadievich, H. M., Uktamovna, M. D., Abdullaevich, S. O., Rustamovna, M. R., & Usmanovna, B. M. (2022). BURN SHOCK IN PEDIATRIC AFTER THERMAL INJURY AND MULTIPLE ORGAN FAILURE SYNDROMES. World Bulletin of Public Health, 8, 140-142.
12. Эргашев, А. Х., Болтакулова, С. Д., Шавкатова, А. З., & Меликова, Д. У. К. (2019). Клинико-биохимическая характеристика неревматических кардитов у детей раннего возраста. Достижения науки и образования, (12 (53)), 46-48.
13. Меликова, Д. У. К., Ахмеджанова, Н. И., Тураева, Н. Ю., Юлдашев, Б. А., & Абдурасулов, Ф. П. (2020). Клинические особенности течения хронического пиелонефрита у детей на фоне анемического синдрома. Достижения науки и образования, (1 (55)), 66-69.
14. Ахмеджанова, Н., Ахмеджанов, И., Меликова, Д., Сайфиев, Х., & Даминова, М. (2021). Влияние ферротерапии на динамику клинико-лабораторных показателей у детей с хроническим пиелонефритом. Журнал вестник врача, 1(1 (98)), 11-16.
15. Зиядуллаев, Ш. Х., Хайдаров, М. М., & Нуралиева, Р. М. (2014). Иммунный статус здорового населения подростков и юношей. Академический журнал Западной Сибири, 10(3), 80-80.
16. Мурадова, Р. Р., & Хайдаров, М. М. (2020). ФОТОТОКСИЧЕСКИЕ И ФОТОАЛЛЕРГИЧЕСКИЕ РЕАКЦИИ ПРИ ИСПОЛЬЗОВАНИИ СОВРЕМЕННЫХ ЛЕКАРСТВЕННЫХ СРЕДСТВ И НЕКОТОРЫХ РАСТЕНИЙ. Вопросы науки и образования, (37 (121)), 41-44.
Bibliographic Information
Cite this article as:
Rustamovna, M. R. ., & Muhammadievich, K. M. . (2022). Optimization of the Ways of Cleansing Burn Wounds From Purulent-Necrotic Masses in Children. Middle European Scientific Bulletin, 25, 243-246. Retrieved from https://cejsr.academicjournal.io/index.php/journal/article/view/1389
Submitted

20 June 2022

Revised

20 June 2022

Published

20 June 2022