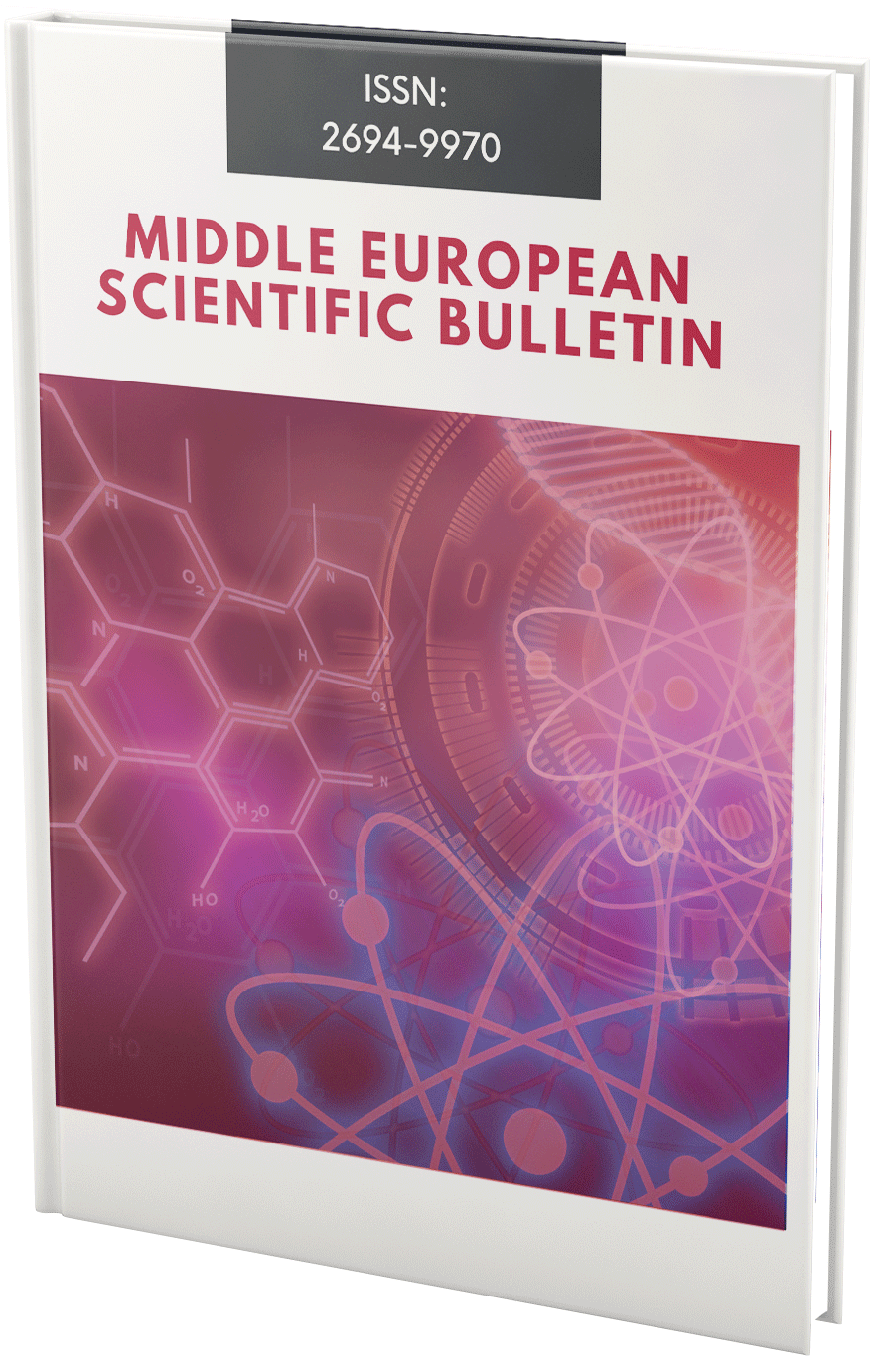 Effect of Bamiya (H IBISCUS ESCULENTUS L.) Steel Height on the Productivity of New Samples
Declarations
Conflict of Interest Statement
The author (s) declare that the research was conducted in the absence of any commercial or financial relationships that could be construed as a potential conflict of interest.
Copyright and permissions
Copyright (c) 2022 Ibragimov Bahodir Akmal ugli
This work is licensed under a Creative Commons Attribution 4.0 International License.
Downloads
Download data is not yet available.
References
1. Azimov B.J., Azimov B.B. " Methods of conducting experiments in vegetable, melon and potato growing." - T. National Encyclopedia of Uzbekistan, 2002, - B.180 - 198.
2. Belik V.F. Method of op ytnogo dela in ovoshchevodstve and baxchevodstve. // M. : «Kolos», 1992 - С. 34.
3. Dospexov B.A. Methodology of field opyta. // M., «Kolos». 1973.
4. Ostonakulov T.E., Zuev V.I., Qodirhojaev O.Q. Vegetable growing. // Textbook for students of agricultural universities.– T. : 2009. - B. 46
5. Safarova N.K. Hibiscus esculentus l under different introduction conditions. Biology and water regime of // Autoref. dis. f.n. biol. fanlari. -Tashkent, 2010. - Б. 22-26
6. Zuev V., Qodirhojaev O. Bamiya // Agriculture of Uzbekistan. - Tashkent, 2003. -№ 6. - 19-20 p.
7. Berlyand S. S. K agrobiologicheskomu izucheniyu bamii // Lubyanye kul - tury. -M. : Selkhozgiz, 1950. -S. 376-397.
8. Berlyand S. S. K izucheniyu raznovidnostey bamii ( Hibiscus esculentus L.). // Trudy VIR. T.23. -vyp.1-4., - M-L. 1930. -S. 301-318.
9. Pugachev I.I., Kalyagina L.G. Izuchenie kollektsii bamii v usloviyax Uzbe kistana // Ispolzovanie mirovyx kollektsiy dlya selektsii ovoshchnyx i plodovyx kultur v Uzbekistane. -Tashkent: SAFVNIIR SAO VAS X- NIL, 1987. -S.4-8.
10 Vulf E.V., Maleeva O.F. World resources of useful plants. -L. : Nauka, 1969. -S. 292-293
11. Obeng-Ofori, D., Yirenkyi-Danquah, E. and Ofosu-Anim, J. (2007). Vegetable and spice crop production in West Africa. Accra, Ghana: Sam Wood Ltd. 68-70.
12. Tuxtaev B.E. Introduction of medicinal plants of planted lands Uzbekistan. Autoref. dis. … Doc. biol. nauk. -Tashkent, 2009. -38 p.
13. Narda NK, Singh Lubana Prit Pal (2002) Studies on growth dynamics and yield of trickle fertigated Okra J. Res. N 2, t.39, pp.272-276
14. Adams, CF 1975. Nutritive value of American foods in common units, US Department of Agriculture, Agric Handbook. 425, pp 29.
15. Kudryashev S.N. Family Malvaceae (for exclusion of the genus Gossypium and decorative species of the genus Hibiscus ) / Flora of Uzbekistan. T. IV. -Tashkent: Izd. AN UzSSR, 1959. -S. 162-183.
16. Fajinmi, AA and Fajinmi, OB (2010). Incidence of okra mosaic virus at different growth stages of okra plants ( Abelmoschus esculentus (L.) Moench ) under tropical condition. Journal of General and Molecular Virolog y 2: 28-31.
Bibliographic Information
Cite this article as:
ugli, I. B. A. . (2022). Effect of Bamiya (H IBISCUS ESCULENTUS L.) Steel Height on the Productivity of New Samples. Middle European Scientific Bulletin, 25, 113-118. Retrieved from https://cejsr.academicjournal.io/index.php/journal/article/view/1364
Submitted

14 June 2022

Revised

14 June 2022

Published

13 June 2022